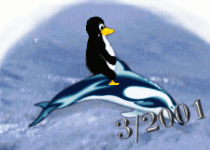 I hope you enjoy reading LinuxFocus. With every issue I am getting feedback from many readers who like the magazine and see the unique benefits that a free multilingual magazine for Linux has. An information source not only available in English. It helps to spread Linux and the idea behind it around the globe.
LinuxFocus has many readers. I genuinely like readers like you, interested to explore new things about Linux or just passing by to read an article. Yes, LinuxFocus is there for you as a reference and you can consult it at no extra cost.

Many readers feel that they would like to contribute back. Well, it's easy. Promote LinuxFocus and its idea. No, you don't need to paint a big poster. Tell a friend about it or engage in LinuxFocus. Translate an article to your mother tongue. To do that just get in touch with the editor of the respective language section. There are even a number of articles waiting to be translated to English.
---
The Articles
System Administration
Using different ISPs for your Internet access , by Guido Socher

In this article we develop configuration files to easily change between a number of different Internet Service Providers. We extend the configuration not only to one PC but to a whole network using IP masquerading. A DNS proxy will be used to make the changing DNS IP addresses invisible inside the masqueraded network.
Games
Applications
Real-time mp3 recording , by Philip de Groot

Recording music in mp3-format gives you the possibility to record very long pieces of music without exhausting the disk-space.
The Easy Fax Server , by hacklinux.org

How to setup a faxserver for Linux and Windows with Hylafax.
Software Development
Graphics
The LinuxFocus Tip
Do you hate it if your computer beeps at you?
Edit your ~/.xinitrc file. If you do not have one in your home directory then you might be using the system wide file
/usr/X11R6/lib/X11/xinit/xinitrc
Copy it to your home directory as .xinitrc and edit it then.
Add the line


xset -b


at the beginning of the file
After the next start of X-windows your computer will not beep anymore.
Note: Users of KDE or Gnome should change the beep volume to zero in the control center.

---
Directory index for persons translating this issue.